The Bloodhound Gang Album Cover
October 19, 2005
There's an oft emailed url to a
web page for the worst album covers of all time
. Even if you've seen it before, it deserves an occasional re-read. I think there's a new one to add to the worst cover of all time. Except now, it's called "cover art" instead of an "album cover," since it actually just comes with the downloaded music files from whichever service you get them these days.
The
Hefty Fine
cover from Bloodhound gang is atrocious.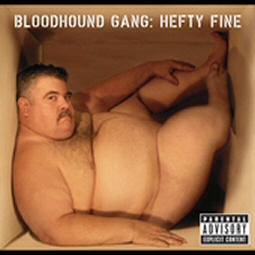 "Hefty Fine." Get it? This guy is hefty, and his fine is apparently to be forced to lie in a box. It's such a natural looking pose. Like he's just walking around nude, and decided to lie in a box. Notice the shadow going up from his head. Apparently, there's a light way down low, just below the cutoff point for the photograph. I hope that whoever had to set up the lighting got paid time and a half that day. What really bothers me is that this is probably exactly what I will look like in about ten years. My gut is well on the way, he already has my preferred hair style, and we all know how I love to be naked. The 'stache isn't really me, but who knows? A lot of tastes can change in ten years. I wonder how the producer approached this guy. I suspect he was just walking down the street, and was asked out of the blue.... "Hey man. How much you weigh?" "About 300? 320?" "Say, this is going to sound stange, but how would you feel about posing naked for some pictures? "No, wait, come back. It's not what you think. We need a fat model for some cover art." "You know. Cover art. Like the picture that would be on the CD case if people still bought CDs." "Yeah, see, we just need a fat naked guy to try to lie in a box. And try to be upside down. Or at least as close to upside down as gravity will allow." "You're in? Great!" One more note: I read that the music on this album is as god-awful as its cover. I haven't listened to it, so let me know if you think this is a killer CD. Otherwise, I probably won't give it a try.