You Checked Our Shitters, Honey?
December 08, 2014
The Saturday after Thanksgiving, we went to get our Christmas tree. The specific criteria we had made it hard to find a place to go.
We wanted to cut it down ourselves.
The one we've gone to for years closed a couple of seasons ago.
The (not really very) close Christmas tree farm that's left is staffed by a big monster bitch of a woman, so we didn't want to go there.
That left us on an odyssey where we drove 100 miles through Louisiana back highways just to get there. 20 minutes of picking and sawing, and we were ready for the 100 mile journey home.
Then, this: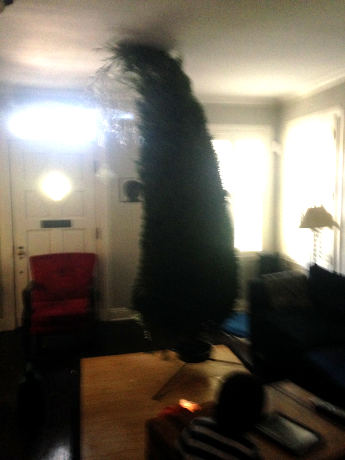 I kept it outside for a full 12 hours or more, but I couldn't bait a neighbor into yelling, "Where do you think you're gonna put a tree that big?" Of course, the replay is, "Bend over, and I'll show you!"