Shaqstue Unveiling
September 12, 2011
Thursday afternoon of last week, I was set to take V to his gymnastics class. He was stir crazy, so we left early, taking his bike to the park to ride around for a bit before class.
We did our thing, loaded his bike back into the car, and started to pull out. There were some other families coming from the sidewalk to the parking lot, and a couple of kids climbing into the mini van parked next to us, so I looked around very carefully, and started to back up very very slowly. I'll note that my vision was especially good, as the top and windows were down on the Jeep.
As we started to back out, some loud mother came around behind me, give my Jeep the "talk to the hand" gesture, and started shouting.
"STOP, STOP, STOP."
"EVERYBODY GET HOLD OF YOUR CHILDREN. WHERE ARE THE CHILDREN."
She then stopped another car trying to leave the lot, and directed me to back out in front of that car, screaming instructions all the while.
Vanya was concerned by the shouting. "What's the matter, Papa."
The only answer I could think of was one that wasn't appropriately repeated to a five-year-old, so I just muttered under my breath, "That lady is a loudmouth cunt."
"WHAT? What did you say Papa?"
"I didn't say anything. I just called that lady a really bad word."
By then, our slow reverse had brought the topless, windowless Jeep so that she was right next to us, just one or two feet away. Vanya sounded louder.
"WHY PAPA? WHY DID YOU CALL THAT LADY A REALLY BAD WORD?"

Gymnastics was at 6:00 on Thursday, and that coincided with the time of the unveiling of the Shaqstue, which was happening in the parking lot shared by the Field House (location of gymnastics) and the basketball practice building. I went outside to watch the unveiling.
LSU has some official photos and video of the event that are better than mine, but I had a pretty good spot.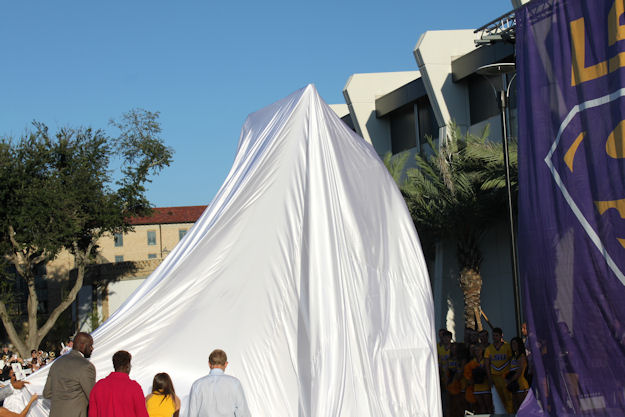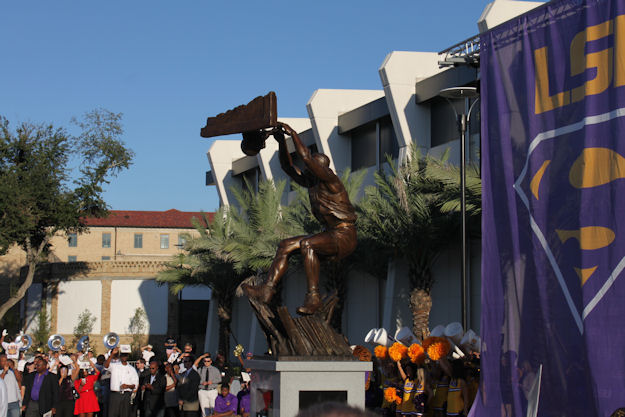 Shaq, with his mother and Dale Brown.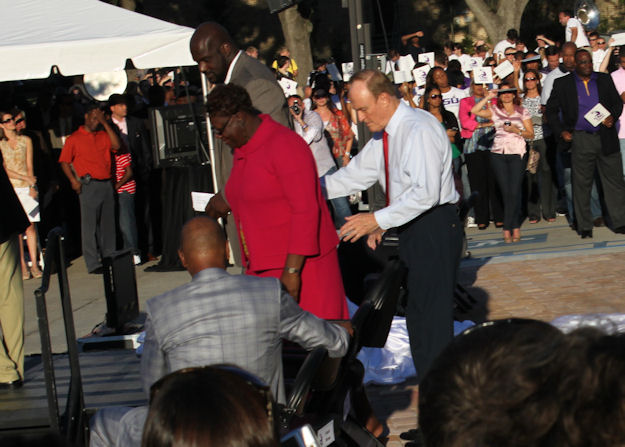 There were all kinds of former players at the event, especially Shaq's teammates, who are my favorites, being the team that played when I was a student. (I don't think Chris Jackson made it, though.)
I had a hard time recognizing them, mostly because my vantage point was primarily backs of heads. But I did have a pretty easy time identifying Stanly Roberts, even from far away.