Mailbag I
February 17, 2004
Last week was a bad one for me, and I wasn't really in the mood to note cute observations to share with all of you. But, I'm getting messages that are pretty good, so I figured I would just let you all write this entry for me.
By the way, as of today, the site has had 20 unique visitors, who viewed 606 pages in 56 visits so far in the month of February. Wow. Who the heck are all of you people?
Anyway, here is some of the feedback that I've gotten from you....
---
From Jackie, who gets credit for being the first one to follow the "Email Ben" link on the web page.
Thanks for lunch...............enjoyed seeing you guys..... Like the page Jackie
The odd thing about this one is that I didn't even buy the lunch.
---
Hi Uncle Benny, Hi! I'm participating in the American Heart Association's Jump Rope For Heart program at my school. I will be jumping rope to help the American Heart Association raise money to fight heart disease and stroke. Please help me by making a donation. Thanks! The American Heart Association's online fundraising website has a .....
Isn't that nice? My first SPAM at theskinnyonbenny.com. And from my own nephew.
---
From Stacie.
Subject: shock and disbelief I can't believe that Donna Dowden made it to your page before me, you bastard.
You asked for it....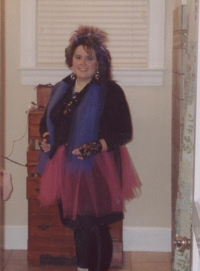 I'm sure that your picture count will be vastly greater than Donna's in a few short months.
---
From Jodie, who has clear intentions of turning this into the next drudge.com.
i heard that Kerry is distributing cocaine to minor children in pixie sticks on his campaign trail. is this true? i thought you would know.
By the way, drudge.com is a really ugly web site. You would think that they could make it look a little nicer, given the fact that they have a staff and tons of visitors.
---
From Ruby.
What's this? You have a picture of my sexy boyfriend at Halloween but none of his bad ass side kick Axle! I guess when you compare me to Daisy, Axle didn't make the cut. Heather, this is the second time you left me out the loop. What are you trying to say?
I see a theme starting to emerge. I looked for a good Axle, but the only one I have shows only Axle's backside. Not that there was anything wrong with that backside, but hey, if we're going to do ass shots, let's start a whole collection of them.
Ruby, send me a decent photo, and I'll put it up.
Everyone else, don't worry, I don't understand that comment to Heather either.
---
And my most recent message. I won't follow this with any comment because, really, how could I possibly?
Dear Ben S, Cowshit Crap Dung Smelly Feces Rat Turd. Sound familiar? Like the mundane ramblings on your SUKKY website. You are an obvious racist and you SUK. And I quote, "LSU's national championship and Southern University's Black College National Championship". BLACK! Championship!!! I guess you think this isn't as good as the WHITE! Championship. As a Southern Alumnus I find this offensive and I think you SUK, WHITE BOY!!! And why do you hate midgets so bad? I suppose the only thing worse than a regular midget is a BLACK midget. Again, I quote, "Who wants to see a midget fuck up a DJ?" How about, "Who wants to see an real big guy fuck up a black midget hating SUKass racist?" I'll be monitoring your web content fervently. Further emails will follow. Regards, Patty