Kids Marathon 2013
January 22, 2013
This morning, Vanya wore his new medal to school. The medal was for completing the 2nd Louisiana Children's Marathon (1.2 miles), and this morning, he was proud of his achievement. But let's rewind.
I ran this year with Vanya's frield Pierce. They ran around downtown like a couple of crazy chickens before the race, but they calmed down as we went into the starting chute.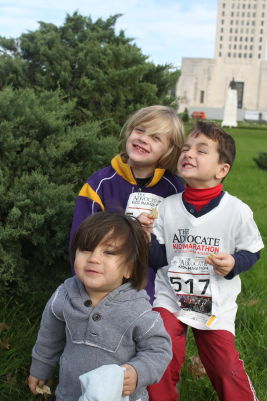 Clowning before the race.
We started at the very back of the pack, so that the starting gun wouldn't freak anyone out. Once we plodded up to where the pack started to spread out, the kids took off like a pair of frightened deer, and I had to turn on the juice to stay with them.
When V noticed that he couldn't see the finish line after about five blocks of this, he started to walk. But Pierce was still going, so I jogged ahead of V a little.
This triggered his inner fears, and he started to cry. It's my hope that his anxiety manifests itself as a teenager who is afraid to try drugs or to sleep with the class sluts, but for now, it's something to deal with.
About that time, Pierce tripped and fell, and just like that, we were behing everyone else, and I had a crying boy on each arm.
It took me a few minutes, but I got them to buck up, and start jogging along the route again. We ran to the turn around spot, said thanks to the cop who was directing traffic not to run over us (not sure where that came from, but ok), and then back up to the finish line without any real incident.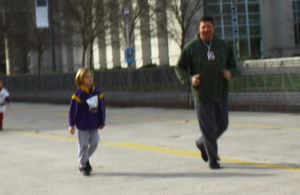 Strong finishers.
The kids were tired, and V, at least, had the appropriate reaction to finishing a run. He told me very seriously, "Pappa, I never want to do that again!"