Holiday Wrap Up
January 05, 2009
Mrs. theskinnyonbenny observed that of all the words spoken in our house, 90% of them are from Vanya's mouth. And it's funny because it's true. Somehow, fate dealt my endlessly garrulous sister a quiet, calm little kid, and dealt my comparatively quiet family one who won't stop running his mouth. A couple of days ago, I was outside his room when he woke up in the morning, and rather than getting out of bed or yelling for one of us, he started his chatter. I caught some names of people, the phrase "go play trains" and a bunch of stuff that I don't remember.
This carries right on through the day, and keeps going once he's put to bed at night. I went upstairs to get my keys after he had been in bed for a half hour. My arrival at the top of the stairs coincided with a triumphant, "I DID IT!" from his room. Presumably, he had completed the puzzle that he insisted on taking to bed. The holiday weekends were fun this year. On Christmas Eve, I smoked a turkey, a duck, a seperate turkey breast, two extra turkey legs, a bunch of andouillie sausage, and three large pork tenderloins. I also made a pumpkin pie, some pumpkin bread, and the cornbread for dressing. I also made a big pot of seafood gumbo. All of this was done by 2:00 that afternoon. So then we spent the next week eating. The turkey, duck, and sausage got used in a new gumbo on New Year's Eve, but there's still a little food left. A ziplock bag of green bean casserole mysteriously appeared in my sink yesterday. I'm almost certain that it was from my leftovers, but I'm not sure where it had been hiding or how it got to the sink more than a week later. My favorite present was a fly rod (along with a reel and some line). I've never done any fly fishing before, and I'm most excited to learn it. There seems to be a pretty active community in Baton Rouge, so I'll start getting involved. It's only a matter of time until you read the story of how I hooked the back of someone's head, or wrapped by line around a stump housing a family of water moccasins. That's how it goes when I learn a new hobby. So, how were all of your Christmases? And for my Jewish friends, how was the movie and the Chinese food? Oh yeah, there was a little bit of football being played too, wasn't there? It's amazing how a good old fashioned whipping in the bowl game can make a fan feel okay about the team again. I'm already all optimistic about next season. Through my rosy glasses, the QB problem is solved, and we're getting a new defensive coaching staff as a late Christmas present this week. To top it off, the best high school players in the country seem to all have LSU on their list. We're going nowhere for a while. One thing you can say about Les Miles LSU teams is that they show up to play for their bowl games. It may be the one area where our fans can universally agree that he outshines St. Saban. Especially after this year's Sugar Bowl. I think some of the Bama players may have snuck out after bed check. This definitely isn't the same Alabama team that beat Arkansas and Georgia. They peaked somewhere around mid season, and they were lucky enough to stay undefeated through the rest of the schedule. I can't decide whether I'm doing the Gator chomp or singing Sooner Boomer Thursday night. I'm leaning toward the Sooners right now. Their fans were okay when they were down to play us for the first national championship after the 03 season. And I'd also like the Tigers to remain the only 2-time BCS champs. So maybe it's sooner red (or maroon, or whatever) for me.
Here's what was happening at my house as the clock struck midnight New Year's eve: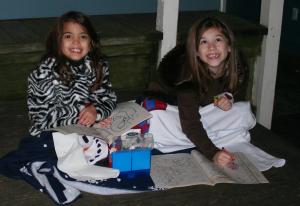 Medium sized kids, wide awake, excited and happy.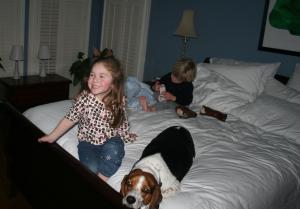 Little kids, still going strong.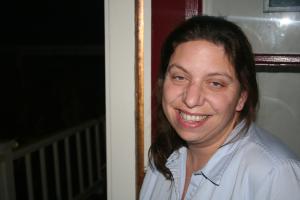 My sister, perhaps not quite sober.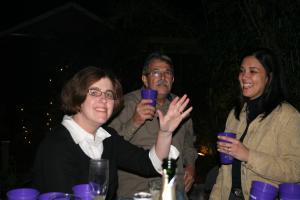 Celebrators by the fire (aren't they a cute group?)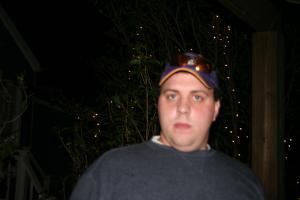 ????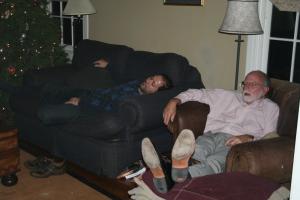 And celebrators in the house.