Googly Eyes Photos
April 15, 2010
Suppose you have a four year old in the house. And suppose that from time to time, your four year old's behavior leads to a punishment where the whole family forgoes television for the entire night. You might normally end up cooking together and listening to music and having a good night, but sometimes, you might find yourself in need of an activity.
Just on a lark, I found that doing a photo essay of a small toy, placed in oddball positions around the house was a lot of fun. We started by shooting pictures of the toy on our heads. Then, we moved him (not it) to different spots in the house.
"Him" is actually Googly Eyes, a small rubber finger puppet. He was a gift from Shelly, along with a similar monster finger puppet called Hairy, or perhaps Harry. I haven't seen Hairy in a while.
This is also a cool way to play around with different camera settings and with different lenses. If you don't use all those features, you forget how to get back to them when you need them.
Here are a couple of fun pics that we took. There were a lot of throw-aways, especially when Vanya manned the camera. But that's okay. No one could help but laugh at the end.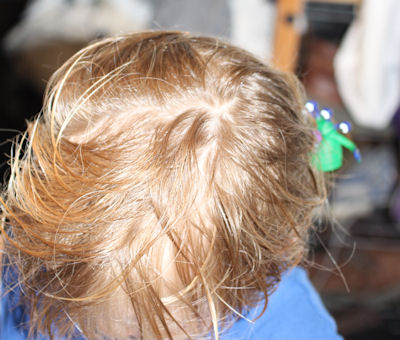 The first thing we tried was taking a picture of Googly Eyes sitting on everybody's head. It's hard to rest a small monster on a squirmy four-year-old head.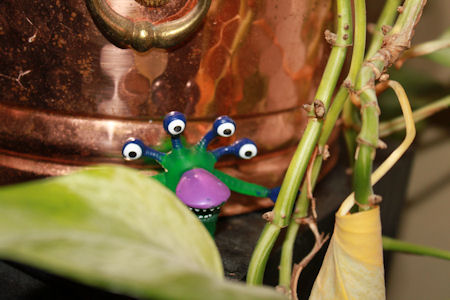 Hiding in the leaves of a houseplant.
The Googly Eyes photo essay starts in the Daily Photo section today. I think we got some really good photos.