Debris
October 23, 2008
A couple days after Baton Rouge announced that the first pass of Hurricane Gustav debris pick up had been completed, I took this picture: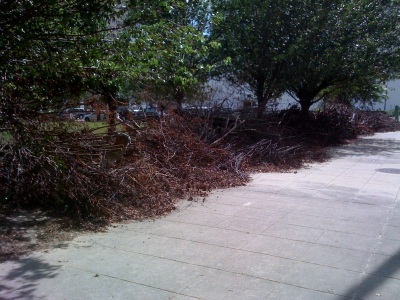 We've been a pretty patient town. It's been six weeks, and I don't hear much bitching about all of the limbs that still line our street.
But here's the thing. I took this picture at the corner of Third and Main. Even if you don't know Baton Rouge at all, you can tell by the names of the streets that this is a pretty central and well traveled part of town. In fact, in any given city, you don't get more central to downtown than the intersections of Third and Main.
Our office is in a neighborhood where they haven't really made a pass at all. A couple residents called and complained, and their piles are gone, but there is still a ton of debris over there. This prompted the following post on the neighborhood's message board.
From: Beauregard@googlegroups.com [mailto:Beauregard@googlegroups.com] On Behalf Of Sara Sent: Wednesday, October 15, 2008 6:21 PM To: Beauregard@googlegroups.com Subject: Re: Debris removal Top Ten Reasons why the mountain of debris in front of your home or office in Beauregard Town has not been picked up...according to an operator at Ceres: 10.Afraid of damaging historic wayfinding signage 9. Everybody seems to be home in the middle of the day 8. Scared of wild dogs 7. Most piles have become home to a litter of kittens 6. Some piles of debris are missing kitchen sink 5. Thought Beauregard Town had seceded to France 4. All debris piles have a Crepe Myrtle growing in the middle 3. Too many liberal democrats 2. Streets too narrow and only go one way And the Number One reason your debris has not been picked up... Because they said on the news we were done! For more reasons, call 1-866-708-2609 :)
If you feel like it, call that number and ask them to go ahead and make a pass down France St.